So what is a Lebanese garlic sauce? And where can I buy this Lebanese garlic sauce? Why should I buy Maska Food Lebanese garlic sauce? Maybe the better question is where can I get the best Lebanese garlic sauce on the market? Four questions!! The answer to your Lebanese garlic sauce dilemma are answered here: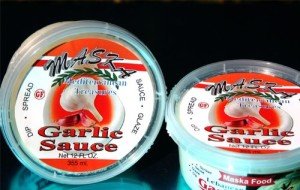 Garlic dip from Maska Food is the finest authentic Lebanese garlic sauce on the market, which has no match in the market for its quality and flavor. Using all natural material we only select premium quality fresh garlic gloves, all natural oil and lemon to produce the most flavorful homemade garlic sauce in the market. Apply it to a variety of Mediterranean food such as Chicken Shawarma, Chicken Shish Tawook or apply it as garlic spread on toasted bun or pita bread.  Garlic sauce used to be a treat only available in the traditional Middle Eastern food restaurant. Maska Food has conveniently made it available in most grocery stores in 12 oz jars to take home enjoy.  If your local grocery store does not carry our product please ask them to contact us or you can easily order it here online.
All Natural
No preservatives
No artificial flavors
No artificial coloring
Gluten Free
Also available in 1 gallon bulk sizes for your restaurant or food service stores.
 Click here for a great and delicious Chicken recipe using our Lebanese Garlic sauce.
---
12 Oz Garlic Sauce
---