Maska Food Salads and Sides are Made with:
• Freshest ingredients
• Crispest products
• Highest Quality
• Delivered Fresh Daily

Vegetarian Tomato Kibbeh
It can be served as side dish or main meal. Healthy vegetarian dish using Mediterranean spices to create richness, depth and flavor without heaviness. It's filling, flavorful and extraordinary in appearance. An ancient Mediterranean recipe revised and improved with great focus and emphasis on flavor as well as appearance and how one feels after eating it. Extra virgin olive oil with no cholesterol used to give subtle fruity flavor and silky texture will satisfy the most discriminated taste buds and provide health benefits too numerous to list.
Fava Beans Salad
Ingredients: Fava Beans, Spices, Lettuce and Maska Fattoush Dressing. Fava Beans were a major traditional food of old Mediterranean civilizations, particularly for the Romans, Ancient Greeks and Ancient Egyptians. It is one of the most popular legumes consumed to replace the luxury food "meat". Highly nutritious and prove to be a powerful storehouse of many essential nutrients required by the body. Very healthy, packed with protein, fiber, Vitamin A, Vitamin k, Potassium and phosphorus and iron. I made the Fava beans as the main component of this salad to make it full of protein and Fiber. Flavored with traditional Mediterranean spices and my own signature Fattoush Dressing to provide a remarkable salad fully satisfying and bursting with flavor.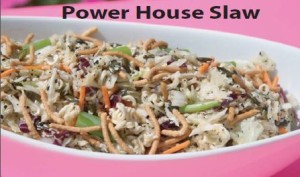 Power House Slaw
Ingredients: Cabbage Slaw, Sesame Seeds, Sunflower seeds, Pumpkin Seeds, pasta and our own Popy Seed Dressing. Our Power House Slaw is anything but ordinary. Irresistibly fresh combination of Cabbage, seeds, pasta and much more, comes together with our own signature tasty, tangy and sweet Poppy Seed Dressing. Healthy treat loaded with Nutrition that will satisfy the most discriminating health conscious client as well as everyone else.
Maska Food will provide Weekly demonstration to assist you with marketing our products and introduce our tasty products to your customers.